The successful launch of the carrier rocket "Antares"
18 October at 2:45 am Kiev time from Wallops Island (Virginia, USA) was held a successful launch of the upgraded launch vehicle Antares medium-class-230 with the transport spaceship Cygnus.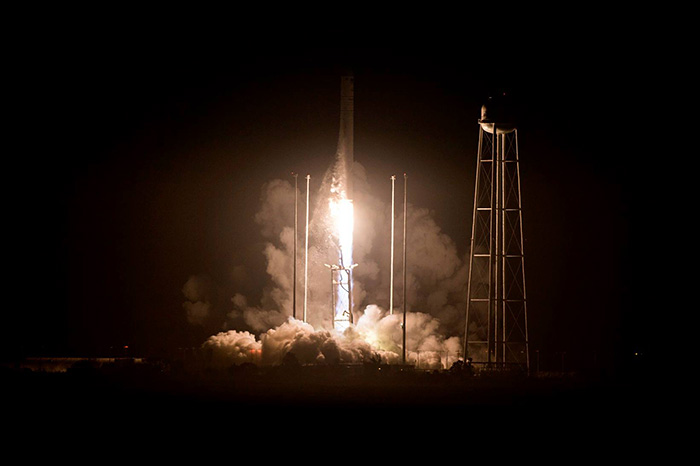 US company Orbital ATK is the main developer of the launch vehicle.  Yuzhnoye State Design Office and State Enterprise "Production Association Yuzhny Machine-Building Plant named after A.M. Makarov"(Dnepr) created the basic construction of the first stage of the launch vehicle in cooperation with the enterprises  LTD RPI HARTRON-ARKOS (Kharkov), SMC "HARTRON-UCOM LTD" (Zaporozhye), " PJSC "CHEZARA", Ltd. "DP" RAPID PLANT".
The last 1.5 years, Ukrainian experts involved in the modernization of the first stage of the launch vehicle Antares. They are adapting it to the new engine. The decision to replace the Russian engine was made by Orbital ATK in 2014, after the carrier rocket due to problems with the engine exploded at the start. Now the changes in the design of the launch vehicle allowed to increase its energy potential and cost-effectiveness.
Cygnus cargo ship will deliver to the International Space Station 2.3 tons of cargo for NASA order: foodstuffs, water, equipment for scientific experiments, and also the equipment for output into space miniature satellites. The Cygnus spacecraft docking with the station is scheduled for October 23 at 14:05.
Reference. It was the sixth launch in the history of the project and after the first modernization of the launch vehicle.
Department of Marketing Communications of YUZHMASH
+38 (0562) 35-53-23, 38-63-43